Helios Solar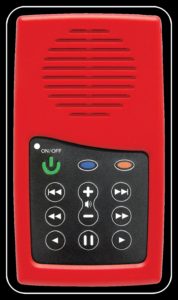 HELIOS SOLAR is a solar-powered audio player that is smaller than your cellphone, yet it can contain the entire Bible in any language and up to 240 hours of Bible and Christian faith teaching. HELIOS literally is "a Bible and Christian faith education right in your hand".
IN A NUTSHELL, THIS IS HELIOS SOLAR
HELIOS Solar is a compact audio player that is smaller than a cellphone.
HELIOS Solar contains teaching on all the major doctrines of the Christian faith.
HELIOS Solar is non-denominational and non-sectarian, but it is thoroughly biblical.
HELIOS Solar teaches the Old and New Testaments as the story of God in history.
HELIOS Solar features internationally-known Bible teacher Dr. Woodrow Kroll with 50 years' experience teaching the Bible on radio and in the classroom.
HELIOS Solar is waterproof, shockproof and tamper-proof.
HELIOS Solar is entirely solar-powered; it never needs electricity.
HELIOS Solar can go anywhere and teach anyone.
With HELIOS Solar you never need electricity. So student users who live in remote areas of the world can enjoy learning God's Word and all about the Christian faith just like those in urban areas. HELIOS Solar is a state-of-the-art technology that brings excellent teaching to the most isolated untrained pastor.